Registration of hockey school 2020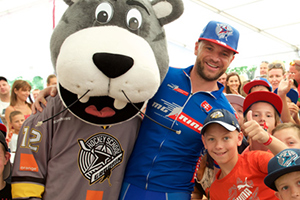 The price includes:
7 hockey days
6 x accomodation + full board and drinking programme
two on-ice training items a day
one or two off-ice training items
one goaltender training supervised by a qualified tutor
passive and active regeneration
a meeting with invited NHL players
a training jersey with the hockey school logo
all-day qualified guidance
spare time programme between and after trainings
ice-hockey English basic course
group photo with Marian
Not included in the price:
The possibility to arrange a lift for participants and their parents from the airport and back
The possibility to arrange accomodation for parents and relatives
The possibility to rent a car
Accommodation can be booked through our hotel's website.
If you book only one camp you will be considered new registrant. If you book more than one camps, the second one will be discounted (since you already attended one camp) , if you book three the third one will be discounted more since you attended 2 previous camps.
Example of price calculation of registration for 3 terms:
1. term – 419 Eur – new participant
2. term – 399 Eur – were already 1 time
3. term – 379 Eur – were already 2 time or more
==========================
Altogether you pay: 1 197 Eur
TERM S1 IS RESERVED!
[[[["field43","equal_to","Other Country"]],[["show_fields","field56"]],"and"],[[["field161","equal_to","1"]],[["show_fields","field6"]],"and"],[[["field161","equal_to","2"]],[["show_fields","field164"]],"and"],[[["field161","equal_to","3"]],[["show_fields","field165"]],"and"],[[["field6","equal_to","419"]],[["set_value",null,"419",null,"field167"]],"and"],[[["field6","equal_to","399"]],[["set_value",null,"399",null,"field167"],["show_fields","field195,field197,field199"]],"and"],[[["field6","equal_to","379"]],[["set_value",null,"379",null,"field167"],["show_fields","field195,field197,field198,field199,field200"]],"and"],[[["field6","equal_to","718"]],[["set_value",null,"718",null,"field167"],["show_fields","field108,field148,field110,field111,field113,field114,field115,field116,field117,field119,field118"]],"and"],[[["field6","equal_to","1077"]],[["set_value",null,"1077",null,"field167"],["show_fields","field108,field148,field110,field111,field113,field114,field115,field116,field117,field119,field118,field176,field177,field138,field139,field141,field142,field143,field144,field145,field146,field147"]],"and"],[[["field6","equal_to","279"]],[["set_value",null,"279",null,"field167"]],"and"],[[["field164","equal_to","818"]],[["set_value",null,"818",null,"field167"]],"and"],[[["field164","equal_to","778"]],[["set_value",null,"778",null,"field167"],["show_fields","field195,field197,field199"]],"and"],[[["field164","equal_to","758"]],[["set_value",null,"758",null,"field167"],["show_fields","field195,field197,field198,field199,field200"]],"and"],[[["field164","equal_to","1436"]],[["set_value",null,"1436",null,"field167"],["show_fields","field108,field148,field110,field111,field113,field114,field115,field116,field117,field119,field118"]],"and"],[[["field164","equal_to","2154"]],[["set_value",null,"2154",null,"field167"],["show_fields","field108,field148,field110,field111,field113,field114,field115,field116,field117,field119,field118,field177,field138,field139,field141,field142,field143,field144,field145,field146,field147"]],"and"],[[["field164","equal_to","558"]],[["set_value",null,"558",null,"field167"]],"and"],[[["field165","equal_to","1197"]],[["set_value",null,"1197",null,"field167"]],"and"],[[["field165","equal_to","1157"]],[["set_value",null,"1157",null,"field167"],["show_fields","field195,field197,field199"]],"and"],[[["field165","equal_to","1137"]],[["set_value",null,"1137",null,"field167"],["show_fields","field195,field197,field198,field199,field200"]],"and"],[[["field165","equal_to","2154"]],[["set_value",null,"2154",null,"field167"],["show_fields","field108,field148,field110,field111,field113,field114,field115,field116,field117,field119,field118"]],"and"],[[["field165","equal_to","3231"]],[["set_value",null,"3231",null,"field167"],["show_fields","field108,field148,field110,field111,field113,field114,field115,field116,field117,field119,field118,field177,field138,field139,field141,field142,field143,field144,field145,field146,field147"]],"and"],[[["field165","equal_to","837"]],[["set_value",null,"837",null,"field167"]],"and"],[[["field161","equal_to","4"]],[["show_fields","field168"]],"and"],[[["field161","equal_to","5"]],[["show_fields","field169"]],"and"],[[["field168","equal_to","1576"]],[["set_value",null,"1576",null,"field167"]],"and"],[[["field168","equal_to","1536"]],[["set_value",null,"1536",null,"field167"],["show_fields","field195,field197,field199"]],"and"],[[["field168","equal_to","1516"]],[["set_value",null,"1516",null,"field167"],["show_fields","field195,field197,field198,field199,field200"]],"and"],[[["field168","equal_to","2872"]],[["set_value",null,"2872",null,"field167"],["show_fields","field108,field148,field110,field111,field113,field114,field115,field116,field117,field119,field118"]],"and"],[[["field168","equal_to","4308"]],[["set_value",null,"4308",null,"field167"],["show_fields","field108,field148,field110,field111,field113,field114,field115,field116,field117,field119,field118,field177,field138,field139,field141,field142,field143,field144,field145,field146,field147"]],"and"],[[["field168","equal_to","1116"]],[["set_value",null,"1116",null,"field167"]],"and"],[[["field169","equal_to","1955"]],[["set_value",null,"1955",null,"field167"]],"and"],[[["field169","equal_to","1915"]],[["set_value",null,"1915",null,"field167"],["show_fields","field195,field197,field199"]],"and"],[[["field169","equal_to","1895"]],[["set_value",null,"1895",null,"field167"],["show_fields","field195,field197,field198,field199,field200"]],"and"],[[["field169","equal_to","3590"]],[["set_value",null,"3590",null,"field167"],["show_fields","field108,field148,field110,field111,field113,field114,field115,field116,field117,field119,field118"]],"and"],[[["field169","equal_to","5385"]],[["set_value",null,"5385",null,"field167"],["show_fields","field108,field148,field110,field111,field113,field114,field115,field116,field117,field119,field118,field177,field138,field139,field141,field142,field143,field144,field145,field146,field147"]],"and"],[[["field169","equal_to","1395"]],[["set_value",null,"1395",null,"field167"]],"and"],[[["field2","contains","S1"]],[["show_fields","field178"]],"and"],[[["field2","contains","S2"]],[["show_fields","field179"]],"and"],[[["field2","contains","S3"]],[["show_fields","field180"]],"and"],[[["field2","contains","S4"]],[["show_fields","field181"]],"and"],[[["field2","contains","S5"]],[["show_fields","field182"]],"and"],[[["field47","contains","ano"]],[["hide_fields","field183"],["show_fields","field172"]],"and"],[[["field6","contains","718"],["field164","contains","1436"],["field165","contains","2154"],["field168","contains","2872"],["field169","contains","3590"]],[["set_value",null,"2",null,"field190"],["show_fields","field188"]],"or"],[[["field6","contains","1077"],["field164","contains","2154"],["field165","contains","3231"],["field168","contains","4308"],["field169","contains","5385"]],[["set_value",null,"3",null,"field190"],["show_fields","field188"]],"or"],[[["field6","equal_to","319"]],[["set_value",null,"319",null,"field167"]],"and"],[[["field164","equal_to","638"]],[["set_value",null,"638",null,"field167"]],"and"],[[["field165","equal_to","957"]],[["set_value",null,"957",null,"field167"]],"and"],[[["field168","equal_to","1276"]],[["set_value",null,"1276",null,"field167"]],"and"],[[["field169","equal_to","1595"]],[["set_value",null,"1595",null,"field167"]],"and"],[[["field192","equal_to","100"],["field193","equal_to","200"]],[["show_fields","field38"]],"and"],[[["field192","not_equal_to","100"],["field193","not_equal_to","200"]],[["hide_fields","field38"]],"and"]]
keyboard_arrow_leftBACK
NEXTkeyboard_arrow_right